Top 10 Ebooks This May, 2018
1.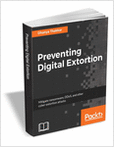 Preventing Digital Extortion ($25 Value) FREE For a Limited Time
Learn the art of preventing digital extortion and securing confidential data. More and more cyber threats keep emerging every day, affecting organizations across the board, targeting the entire spectrum of the Internet. Digital or cyber-extortion has come across as the most serious of such threats as it seeks to profit from criminal activity, akin to blackmail. What You Will Learn:
Delve into the various types, stages, and economics of digital extortion
Understand the science behind different attacks
Understand the gravity of and mechanics behind ransomware and prevent and mitigate data breaches and financial losses
Use effective tools to defend against ransomware
Analyze attacks, the money flow, and cyber insurance processes
Learn the art of preventing digital extortion and securing confidential data
Get an idea of the future of extortion tactics and how technological advances will affect their development
This eBook will help you become a pro at securing your data and preventing your organization from paying a hefty ransom. Free offer expires 5/15/18.
2.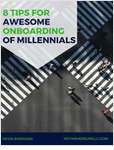 8 Tips for Awesome Onboarding of Millennials
Let's face it: Millennials are different. As such, their onboarding process should be different and very unlike the onboarding process experienced by Gen Xrs and Boomers.
The very first weeks of a Millennial's employment will largely determine their career trajectory within your organization. A 2014 Bentley University Study revealed that the majority of Millennial graduates gave themselves a C- when it came to their level of preparedness to enter the workforce. Thus, when they arrive at your company's door, the importance of your onboarding process takes on a whole new meaning.
Here are eight sure-fire ways to properly onboard Millennials so they are not only retained, but also are fully engaged members of your team.
3.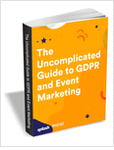 The Uncomplicated Guide to GDPR and Event Marketing
Built specifically for event marketers (and those with short attention spans), this precise guide will tell what you need to know and what you need to put in place. If you are both concerned about the pending General Data Protection Regulation (GDPR) impact on your event marketing as well as intimidated by the volume and depth of information out there, this is the guide for you. In this guide you will learn:
What is GDPR and why you should care
How it will affect event marketers
Why (and how) it will improve your overall event marketing performance
What minimum (and surprisingly simple) things you need to have in place by May 25, 2018
How to communicate and prepare others across your organization
This is a huge opportunity for event marketers to step up their game – not only by supporting their company in compliance, but also by improving engagement, participation, and trust with prospects and customers moving forward.
4.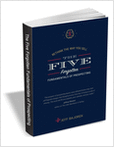 The Five Forgotten Fundamentals of Prospecting
Prospecting is the most vital element of the sales process. A robust pipeline of new business leads is the solution to any business problem, and effective prospecting is a catalyst for a robust pipeline. In this eBook, you will learn the five forgotten fundamentals of prospecting you must understand and own in order to be effective. Those fundamentals include:
Know what you bring to the table
Know who you should be talking to
Create some tension
Be the expert
Keep your swagger
Gain excellent tactical advice, grow with sales exercises, and prepare for before you actually make that call or knock on the door. By downloading this PDF you are also subscribing to Jeff Bajorek's newsletter for inspiration, tools, and other resources related to sales and leadership.
5.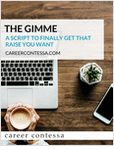 The GIMME – A Script to Finally Get that Raise You Want
Wouldn't it be great if there were just a script for asking for a raise? Oh yeah, Career Contessa made one. The GIMME is a 5-step process that covers everything from how you open the conversation to how you end it in style. It looks something like this:
G: Give Background Info
I: Introduce Why You're Awesome
M: Make Your (Researched-Based) Case
M: Make the Ask
E: End with a Bang
By hitting each step as you talk, you'll make a clear case for why you deserve more money, and you'll provide your boss with a clear idea of what value you bring to the team. It's a perfect sell—one that's a win-win for both of you.
6.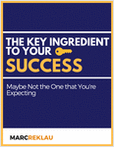 The Key Ingredient to Your Success
The power of gratitude should not be overlooked. Many times when we don't see immediate results we give up. If you start and end the day with gratitude it will positively impact your personal and professional life. It is the key ingredient to your success. This concise tips and tricks guide covers:
The benefits of an "Attitude of Gratitude"
Three exceptions where gratitude won't work for you (that you can easily change)
Techniques to find things to be grateful for
Action steps for a long-term strategy
By downloading this PDF you also are subscribing to Marc Reklau's newsletter for weekly content on Habits and Personal and Business Success. You can unsubscribe at any time.
7.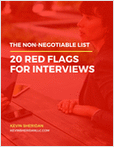 The Non-Negotiable List – 20 Red Flags For Interviews
If you ever interview job candidates, you need a Non-Negotiable List. This list is used during the interview process to help identify "warning signs" that candidates aren't a good fit for the organization or position. When a candidate shows one of these warning signs, he or she is no longer considered as a potential hire. Here is a list of 20 sample non-negotiable traits and behaviors that should be red flags for most jobs. This list will help you start creating a list of your own, using warning signs for behaviors that clash with your company culture.
8.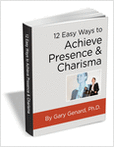 12 Easy Ways to Achieve Presence & Charisma
Need inspiration to speak as a leader? The following twelve skills or approaches will help. This eBook is specifically concerned with helping you achieve those twin essentials of leadership: presence and charisma. You will learn:
Ways to build credibility and trust
Skills to help you tap your natural talents as a communicator
Practice exercises to gain confidence while speaking
And much more
You're capable of speaking with confidence and conviction, you just need the tools to help you get there. By downloading this PDF, you are also subscribing to Gary Genard's weekly content on successful public speaking.
9.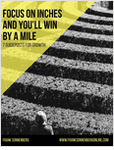 Focus on Inches and You'll Win by a Mile – 7 Guideposts for Growth
Most of us like to see progress right away. So, when we take baby steps and can't detect advancement, we abandon our efforts, thinking that we've failed. The truth is, measuring progress is often like watching grass grow. While it's difficult to detect movement on a daily basis, it's simple to see growth over time. Here are 7 guideposts for your growth and improvement.
10.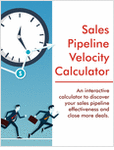 Sales Pipeline Velocity Calculator
An interactive calculator to discover your sales pipeline effectiveness and close more deals. Though painful at times, 'time is money' is how successful companies edge out the competition. It comes down to sales effectiveness and the effectiveness of your sales process.
Heinz's new sales planning tool, Sales Pipeline Velocity Calculator, brings together marketing contributions and sales process effectiveness in a common model to help you:
Uncover valuable insights on the overall health of your sales engine
Quickly identify weaknesses and optimize opportunities before sales start to decline
Build confidence in reporting and forecasting
Demonstrate marketing's influence on revenue
Download our sales planning tool and discover how you can impact the velocity of your sales pipeline.